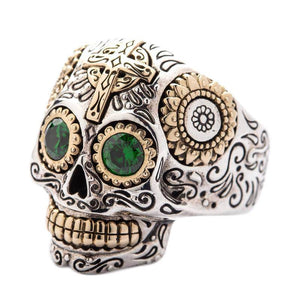 GREEN STONE SUGAR SKULL RING
It may be a sugar skull but there's nothing sweet about this brutally bold, emerald green skull ring. Featuring a large, imposing skull with emerald green skull eye sockets, this is first class rocker jewellery featuring more than enough tenacity to make any outfit stand out.

Produced from the highest quality  polished Stainless Steel, this stylish ring is thick and heavy yet exceptionally detailed with a cross on the forehead and extensive tribal floral carvings. It's carefully crafted design is built to last and handle even the roughest
times.


With it's menacing skull, blazing green eyes and unique tribal detail, this ring makes a real statement when worn and is sure to grab desirable attention.

Would make an excellent gift.

- 100% polished Stainless Steel
- Ring face measures: 27.5mm
Green Eyes Sugar Skull Rings
Sterling Silver Mexican Sugar Skull Ring
Please allow 10-24 business days for the item to arrive.