Having annoying nose hairs can be a real pain...literally! Trimming them the old fashioned way with tweezers can HURT! However, our tool Trims nose hair without any pain. Our trimmer is very easy to use! It's small & compact which makes it perfect to carry around Everywhere. You don't even need any batteries!
Simply squeeze the handles and it'll begin rotating its super sharp blades.. The blades are made from durable stainless steel and they NEVER come in contact with your skin to ensure a pain-free experience.
---
HOW TO USE:
Step 1: Insert the trimmer slightly into your nostrils by holding the tool with thumb and forefinger. Place the cutting heads approx 1/5 inches into your nostril. (Be sure to clean the area with warm water before use.)
Step 2: Squeeze the handle to rotate the trimming blades.
Step 3: Clean the tool after you are done, with the additional brush to remove excess hair from in between the blades, or wash it with water.
Step 4: Dry at a well-ventilated place.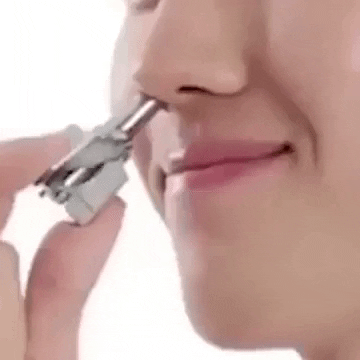 PACKAGE INCLUDES:
1 x Mini Nose Hair Trimmer
1 x Cleaning brush

Width: 3CM/ 1.18''
Please allow 10-24 business days for the item to arrive.